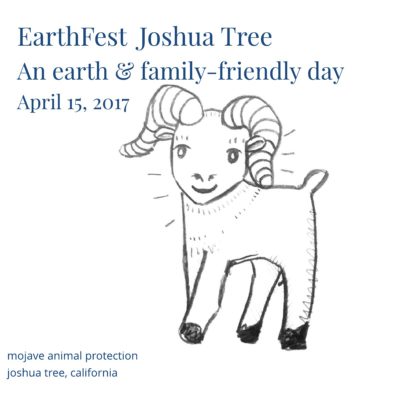 EarthFest Joshua Tree is a family & earth-friendly day celebrating kids, animals and the planet! Please join us April 15, 2017 in the courtyard at Art Queen (61855 Twentynine Palms Highway) in Joshua Tree. The fun begins at 1000am and wraps up at 100pm.
EarthFest Joshua Tree features –
A Desert Tortoise presentation by Ranger Sara from Joshua Tree National Park.
Samples of fresh vegetables and fruit from local farmers – with tips on how to eat healthy and sustainably
Fun fors kids & adults performance by Shari Elf!
Take home desert animal coloring pages
Free Children's Books from Mojave Reading Project
Cacti 4 Kids presentation by Nicole Hartwig-Holland from Cactus Mart
Balloons Blow presentation by MAP's Kelly Overton
Green Carpet Walk! Kids walk the green carpet and show off their clothes featuring animal print/pictures
Mutt Strut! Kids bring their dog(s) on stage to introduce her/him to the crowd.

How Your Kids Can Help
Bring unopened cans, bags and boxes of pet food to be distributed to animals in need by Mojave Pet Food Bank.
Bring unwanted plastics – bags and household items. If it's plastic bring it and our Mojave Plastic Project will (re, up or down) cycle it!
Bring used children's books in good condition and we will get them to kids who need them. Books with pro animal and earth messages appreciated.
The event is smoke, alcohol and balloon free. Balloon free?! Yes,  because Balloons Blow!
EarthFest Joshua Tree 2017 Sponsors